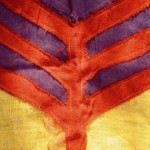 Ja ņujorkiešu trio "Yeah Yeah Yeahs" debijas albums – 2003.gada 'Fever To Tell' grupu pasaules mūzikas kartē nepārprotami nostādīja blakus tobrīd jo īpaši aktuālajiem saviem novadniekiem "The Strokes", tad apvienības otrajā platē šī saistība vairs nav tik uzkrītoša, grupai aktīvi eksperimentējot ar atšķirīgām noskaņām, žanriem un ietekmes avotiem.
Zināmā mērā 'Show Your Bones' var uzskatīt kā apzinātu grupas soli ārpus iepriekš pārstāvētā garage-indie revival mūzikas viļņa, kuram pateicoties, nāca klajā jau minētais 'Fever To Tell'. Tēlaini izsakoties, to iespējams noformulēt šādi – no "The Hives" un "Peaches" pirmajā albumā uz "Siouxsie and the Banshees" ('Gold Lion') vai pat "The Dresden Dolls" ('Warrior') šeit. Grupas soliste Kārena O albuma nepilno 40 minūšu laikā izdzīvo neskaitāmus "alter ego", tā īsteni neļaujot 'Show Your Bones' pieskaitīt nevienam konkrētam mūzikas žanram un ne jau pārlieku daudzo un dažādo grupas ietekmes avotu dēļ, bet gan albuma izteikti dzīvā, emocionālā skanējuma dēļ.
Protams, katrā lietā arī savas ēnas puses – pirmā grupas albuma pancisko noskaņu iecienījušajiem nu nāksies mēģināt ieklausīties "Yeah Yeah Yeahs" apdziedātajās savstarpējo attiecību sāpēs un cilvēku šķiršanās iemeslu skrupulozā analīzē. Nodrāzts temats? Tiesa, taču tikai pa retam kādam izdodas tā saukto "divdesmitpiecgadnieku krīzi" ietērpt tik krāšņā, izjustā un smeldzīgi patiesā formā kā tas dzirdams 'Show Your Bones'. Rekomendēju visiem, kas jau krāj naudu pirmajam Pollijas Džīnas Hārvijas DVD.
Noklausies:
'Gold Lion'
Audio clip: Adobe Flash Player (version 9 or above) is required to play this audio clip. Download the latest version here. You also need to have JavaScript enabled in your browser.
'Fancy'
Audio clip: Adobe Flash Player (version 9 or above) is required to play this audio clip. Download the latest version here. You also need to have JavaScript enabled in your browser.
'Warrior'
Audio clip: Adobe Flash Player (version 9 or above) is required to play this audio clip. Download the latest version here. You also need to have JavaScript enabled in your browser.